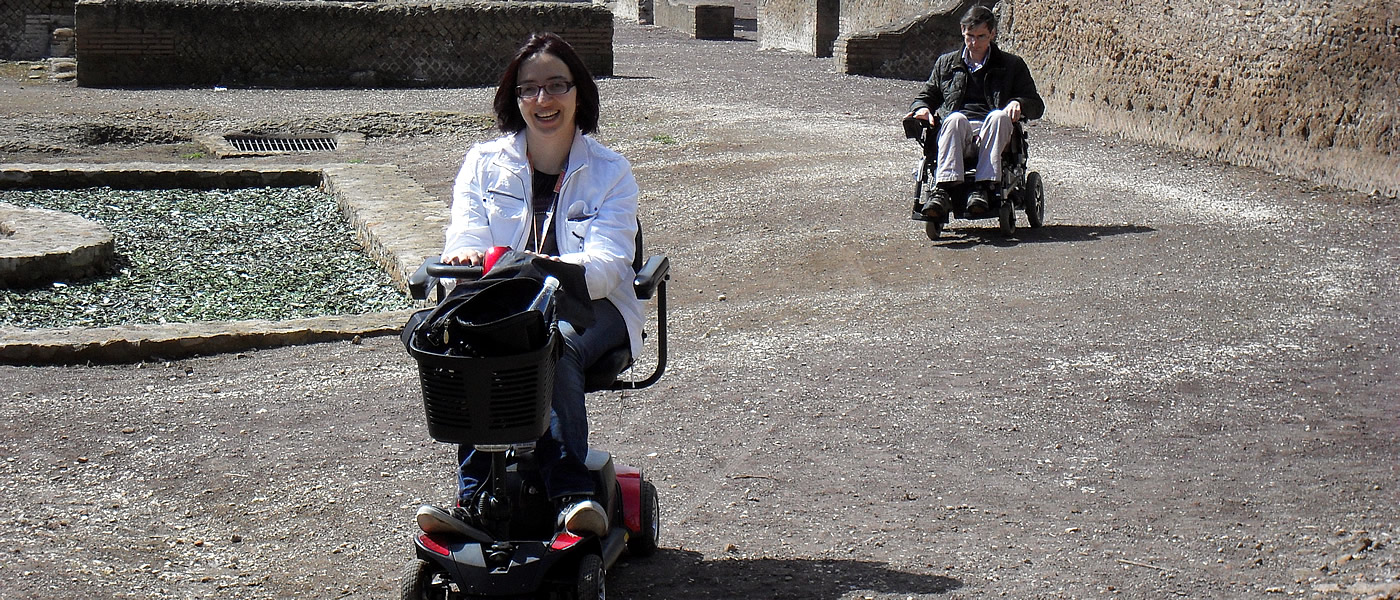 Rome Wheelchair Accessible Tours
Rome Wheelchair
Accessible
Rome Wheelchair Accessible Tours Holidays. Making A Better Accessible Place
Rome Wheelchair Accessible Transportation
Rome wheelchair accessible tours to be lived in full without obstacles and difficulties, we have many initiatives.
Without sacrificing those emotions that the eternal city can bestow on any other place in the world and breathe more than 2000 years of history.
Rome wheelchair accessible tours holiday for wheelchair users is the best accessible travel solutions, where disabled will be able to make the most of their vacation.
Limited mobility does not automatically mean limited holidays.
Rome Wheelchair Accessible Tours
In fact, we offer a great deal of cultural and historical value.
Main monuments, Rome museums and particular excursions have been made accessible.
Thanks to our thirteen years of experience in the accessible tourism industry in Italy specifically for the disabled.
We offering different travel solutions for people with disabilities throughout Rome specifically tailored to wheelchair users, reduced mobility persons and disabled.
Rome wheelchair accessible tours holiday for wheelchair users affordable accessible services.
The ideal travel deals for a fun and peace of mind while in vacation.
Rome Accessibility
Certainly, in the old town the pavement is mostly cobbled stoned, the structures are old, and the means of transport sometimes difficult.
But if you have the right landmarks and the correct information you can live the city in complete autonomy and without any surprises with our collaboration.
Rome Shore Excursions
If you are on Cruise in the Mediterranean with a stop at Civitavecchia Dock ( Rome cruise port ) a day with a guided driver and a private full accessible van.
We will driving you to visit Rome shore accessible excursions with its history, life and customs of the Eternal City, showing its monuments and the main works of the great artists.
A private accessible visit to Rome is an exclusive service with a private driver, and in addition, an expert and highly qualified tourist guide if is required.
In the morning you will meet with your private driver at the dock ( authorized to enter the port ) in the Civitavecchia Dock at the exit of your ship.
Visit the Vatican Museums where you can admire the magnificent Sistine Chapel or the Colosseum Accessible Tours, one of the "New Seven Wonders of the World", a symbol of the city.
After this day full of emotions, there will be a return to the Port and certainly thinking back to the day you just spent !!!!
Accessible Hotels in Rome
On the Advanced Search page, the Rome Accessible Hotel link will take you directly to vacation accommodation that is accessible to wheelchair users or has reduced mobility.
All accommodations listed are accessible and wheelchair friendly for disabled persons, previously viewed personally by our staff.
Photos and videos, correlated by a description of the structure for the needs of those who need special requirements.